Ooops. I can't believe my last post is about the Berbee Derby on Thanksgiving 2012!
I have been remiss in updating my blog. Mainly because life has been busy and I have been regularly contributing to the
Salty Running blog
. I guess it is hard to deliver consistently in both places.
My training this winter has seen a lot of ups and downs. Unbelievably enough, I am in my 15th week of training. It took me a long time to get into a good groove with soreness, injury and pure lack of motivation. But I think I am on a good track now.
As you may recall, I decided NOT to train for a spring marathon this year. (I know, crazy, right? :) Instead I am working on the speedier stuff - namely the 10k and half marathon distance - with the half being my primary goal. The really crazy thing is I haven't identified which half I'll be running.
It will either be a l
ocal run in mid April
(the start is less than .5 from my front door) or I will run the
Illinois Marathon Half
. The local race would be much more convenient, but I am worried it may be very crowded this year and hard to navigate. Last year it was perfect, but was an out-and-back on a trails to trail. It gained a lot of popularity and I am afraid if there are a lot more registrants, it may be way too crowded to try to race. We'll see.
For now, I have worked into two speed workouts a week. It has been fun getting my speed on as last year I never ran faster than a 7:08 pace in training. I am also happy to report that today is the first day after speed work I am not wicked sore (hello hip flexors!).
The other fun new development is I am trying out new shoes. The Mizuno Wave Alchemys hurt me (13s) and I am anxiously awaiting the 14s. But in the meantime, I am strengthening my feet and trying to run in shoes with less stability. So I've started cycling in the Brooks Pure Cadence, Mizuno Wave Inspire and Mizuno Nirvana. They are super light and super bright.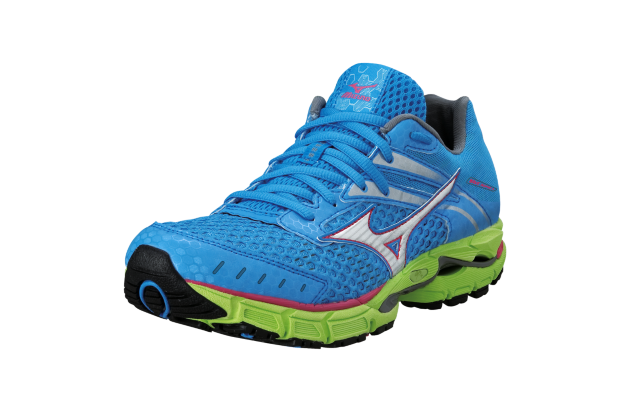 Bright shoes make training fun. :)
Unfortunately, we've had a pretty hard winter here in Wisconsin. Lots of snow and freezing temps, so I have been spending a fair bit of time on the treadmill. I am used to it by now, but not ideal.. That said, I am off to run. I hope you are well, healthy and happy.